Zirconia oxygen analyzer - ZR800
The zirconia analyzers (also zirconia oxygen analyzers) of series 800 stand for high reproducability of the measuring values. The measuring range covers 0.1ppm …100% O². The analyzer is suitable to do measuring in the percent ranges as well as oxygen measurement. Zirconia analyzers utilise a measuring cell from ceramics, which does not deplete.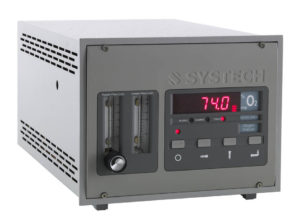 Oxygen analyzer characteristics
The Zirconia oxygen analyzers utilise ceramics sensors which compare the oxygen level of the sample gas with the ambient air. Sensors of ceramics are non-depleting.
T90 : 5 sec
measuring deviations: max 2% of measuring value
Cell lifetime: >7 years on averabe
Oxygen analyzers of series ZR800 are available in 3 various types of housings. The housings can be individally configured with plugs, handles, etc.
To get the ZR800 …,

The following accessories and configuration options are available:

Alarm options (digital changeover contact)

Up to 3 free programmable analogue outputs (scitchable between 0…20mA, 4…20mA and 0…10V)

Integrated sample pump

Integrated rectified pump

External pump

filters (analysis filter, coalescence filter, pre-filter,…)

Absorber (activated carbon, hopkalite,…)

Measuring cell insensitive against hydrocarbon

Condensate traps

Flow alarm

Bypass for faster response times

Pressure regulator

Sample gas piping in stainless steel

Inert gas regulation (Nitrosave)

Autocalibration

Accessories for mounting and installation

24V/DC version

Typical applicatins and benefits of the oxygen measuring device
Typical applications
Additive manufacturing
Aluminium industry
MAP packaging monitoring
Glass manufacturing
Inert glove boxes
Semiconductor industry
Bond furnaces
Inert gas regulation
Ceramics
Sinter and reflow ovens
Heat treatment
Welding plants
Benefits at one glance
Excellent reproduceability of the measuring values
T90 = 5 sec
No depleting sensors
Numerous configuation options
Solvent-resistant
Saving costs by inert gas regulation
Maintenance and calibration in Germany
Unaffected by vibration or position
Very good readability
User-friendly
Combinable with other instruments