Moisture tracer analyzer MT1000
(Für uA Chlorgas und Phosgen)
The MT1000 has been particularly designed for applications, which are too demanding for other moisture analyzers. HCI environments and chloride gases mean no problem for the MT1000. Measurements can be taken in all gaseous environments, which do not react with phosphoric acid. One analyzer is able to monitor up to  3 sensors.
Because of the separated sensor and at additional use of ZENER safety barriers the MT1000 can also be used in ATEX areas.
The sensors of the moisture tracer MT1000 can be supplied with compression fittings or internal screw threads. The measuring principle is absolute and does not require any calibration or zero point adjustment.  By pressing a button the sensor is able to do a self-test in order to check if it has to be recoated. The coating of the sensor can be carried out by the customer himself.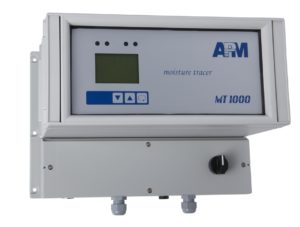 Moisture tracer MT1000 - Information
Moisture trace analyzer MT1000 - Applications and benefits
Typical applications
Additive manufacturing
Aluminium industry
Analysis of gas storage
Food and beverage industry
MAP packaging monitoring
Glass production
Inert glove boxes
Semiconductor industry
Bond furnaces
Inert gas regulation
Ceramics
Adhesive industry
Soldering equipment
Pharmaceutical industry
Thermal after-burning
Sinter and reflow furnaces
Heat treatment
Petro and polychemistry
Pyrolysis processes
Reflow furnaces
Welding equipment
Benefits at a glance
Long lifetime of the sensors
Extremely quick response times
Good reproducibility of measuring values
Low measurement inaccuracy (<2% of measuring value)
Numerous configuration options
Hydrogen-resistant
Saving costs by inert gas regulation
Maintenance and calibration in Germany
Insensitive against vibrations and positions
Good readability
Sample gas conditioning on customer's request
Up to 3  sensors at one analyzer