NitroSave - EC9500 & ZR8500


NitroSave analyzers are measuring devices, which will help your system to save inert gas and by this costs. These devices offer an internal control with which a valve can be controlled. The used Fuzzy Logic Algorithm regulates the O² content of your plant to the set target value. By this, always sufficient inert gas will be fed to your system, but no gas is wasted. The NitroSave analyzers are based on the oxygen analyzers of series EC900 or ZR800 and can control proportional valves and mass flow meters.
The NitroSave series is used whereever high costs are caused by the consumption of inert gas, such as  nitrogen or argon.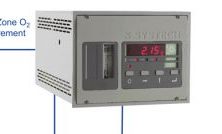 Nitrosave gs monitor versions
Gas monitor Nitrosave advantages
Benefits at a glance
Cost saving by reducing gas consumption
Stable gas atmospheres by constant gas dosing
Quality improvement of the gas atmosphere
Can be used with MFC's or with proportional valves.
Insensitibe to vibrations and changes in position
Very good legibility
User-friendly