Electrochemical Oxygen Analyser - EC900


The electrochemical oxygen analysers of series 900 are designed to measure most accurately oxygen levels in gases. The EC900 is used worldwide in industrial and laboratory applications.
Various versions  of the EC900 allow measurings in trace, ultra trace or percent ranges.
The EC 900 is one of the worldwide most  sucessfully used  analysers for residual oxygen measurings.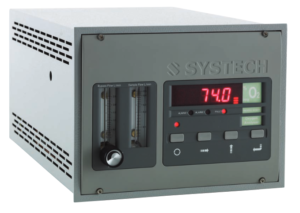 Applications
Additive manufacturing
Aluminium industry
Analysis gas storage
Food and beverage industry
MAP packaging monitoring
Glass manufacturing
Inert glove boxes
Semiconductor industry
Bond ovens
Inert gas regulation
Ceramics
Adhesive industry
Soldering systems
Pharmaceutical industry
Thermical afterburning
Sinter and reflow furnaces
Heat treatment
UV Print
Petrochemical and Polychemical industry
Pyrolysis process
Reflow furnaces
Welding systems
Benefits at a glance
Long lifetime of the sensors
Extremely fast response times
Good reproducibility of measuring values
Extremely low measurement inaccuracy (<2% of the reading)
Numerous configuration options
Insensitive against hydrogen
Cost saving by inert gas regulation
Maintenance and calibration in Germany
Unaffected by vibrations and change of position
Good readability
User-friendly
USB interface
Computer software inclusive
Combinable with other measuring devices