Paramagnetic oxygen analyzer PM700
The paramagnetic oxygen analyzers of series 700 have been designed for precise and quick measuring results in percent levels. The measuring range of the oxygen level is from 0.01% …99.99%. The instruments  of series 700 are the best in class of high performance oxygen analyzers, they are suited for measuring of oxygen purity.
Further applications are for example facilities with slow or biological conversion of oxygen.
The measuring cell of the analyzer compensates changes in pressure and temperature.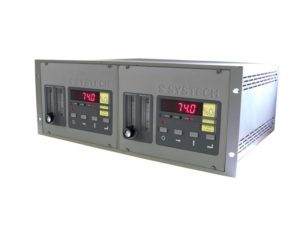 Paramagnetic oxygen analyzer PM700 - Characteristics
The data for measuring accuracy and reproducibility of the PM700 analyzers reflect the outstanding performance of the instruments.
T90: <2 sec
Zero point drift: 0.05% per week or better
Reproducibility: 0.02% of measuring value or better
Linearity: 0.1% absolute or better
The PM700 is available with 3 various casings .  All casings can be customised and extended on request.
Bench casing – PM81x – 190x137x410mm
Field casing IP66 – PM82x -460x380x160mm
19″ rack – PM83x- 178x484x410mm
To customise the paramagnetic analiyer PM700 to the special application of the customer, numerous accessories and configuration options are available:
Measuring value alarms (digital changeover contacts)
Free programmable analogue output (switchable between
0…20mA, 4…20mA and 0…10V)
Pressure compensation
Sensor heating
External pump
Filters (analysis filter, coalescence filte, pre-filter…)
Flow alarm
Bypass for quicker response times
Pre-pressure regulator
Autocalibration
Mounting and installation accessories
Typical applications
Aluminium industry
High-purity gas manufacture
Air separators
High-purity gas monitoring
Glas manufacturing
Medical technology
Pharmaceutical industry
MAP  packaging machines
Heat treatment
Polychemistry
Benefits at a glance
Best suited for oxygen measurments in % range
Very quick response times
Good reproducibility of measuring values
Low drift behaviour of paramagnetic sensor
Numerous configurations possible
Maintenance and calibration by APM
Insensitive against vibrations and changes in position
Good readability
User-friendly
Measuring of  oxygen in gases in percent range
Combinable with other measuring instruments