Electrochemical ATEX Oxygen Analyzer EC91


The electrochemical oxygen analyzer EC91 has been designed for application in all hazardous areas. Due to its proven design the analyzer can be operated intrinsically safe and with external sensor even in the EX Zone "0" .
The EC91 can be operated in measuring ranges from 1 ppm …21% oxygen at different background gases. With the correct sensor, even gases as CO2 or H2 do not mean any problem.
The casing is made from a sturdy glass fibre reinforced polyester. The EC91 offers a 4…20mA analogue output.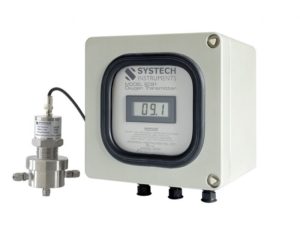 Features of the ATEX oxygen analyzer EC91
The oxygen measuring devices of series 900 are equipped with two sensors. These switch to each other to increase the measuring speed and their lifetime.
T90: 20 sec(lab test)
Resolution: 0,05 % of the scale
Inaccuracy at >10ppm: 2% of the reading
Inaccuracy at <10ppm:  0,4 ppm approx
The maximum measuring range can be specified via the sensor and can be selected more precisely with the rotary knob on the analyser. The selection of the measuring range determines also the range on the display and the signal range of the analogue output.
Following measuring range are available as standard:
0…20 ppm
0…200 ppm
0…2000ppm
0…2%
0…20%
0…30%
Further measuring ranges on demand.
Th EC91 offers many additional options, as for example:
External sensor
Electrical ATEX equipment
Zero point adjustment system
Power adaptor for 230V/AC, 110V/AC and 24V/DC systems
Modification to 24V/DC (with loss of ATEX approval)
External pump
Filters (analysis filter, coalescence filter, prefilter…)
Mounting and installation accessories
Typical applications
ATEX / EX applications
Monitoring of the lower explosion limit
Analysis of gas storage
Semiconductor industry
Fuel gas regulation
Adhesive industry
Petrochemistry and polychemistry
Pyrolysis processes
Welding systems
Reactors
Extraction of fossil fuels
The benefits at a glance
Intrinsically safe
Suited for all Ex Zones
Suited for various background gases
Fast response times
Large measuring ranges
Cost saving by inert gas regulation
Maintenance and calibration in Germany
Insensitive against vibration and position
Easy to operate
Analogue output as standard
Casing: IP66
Impact resistanct GFK casing (IP66)